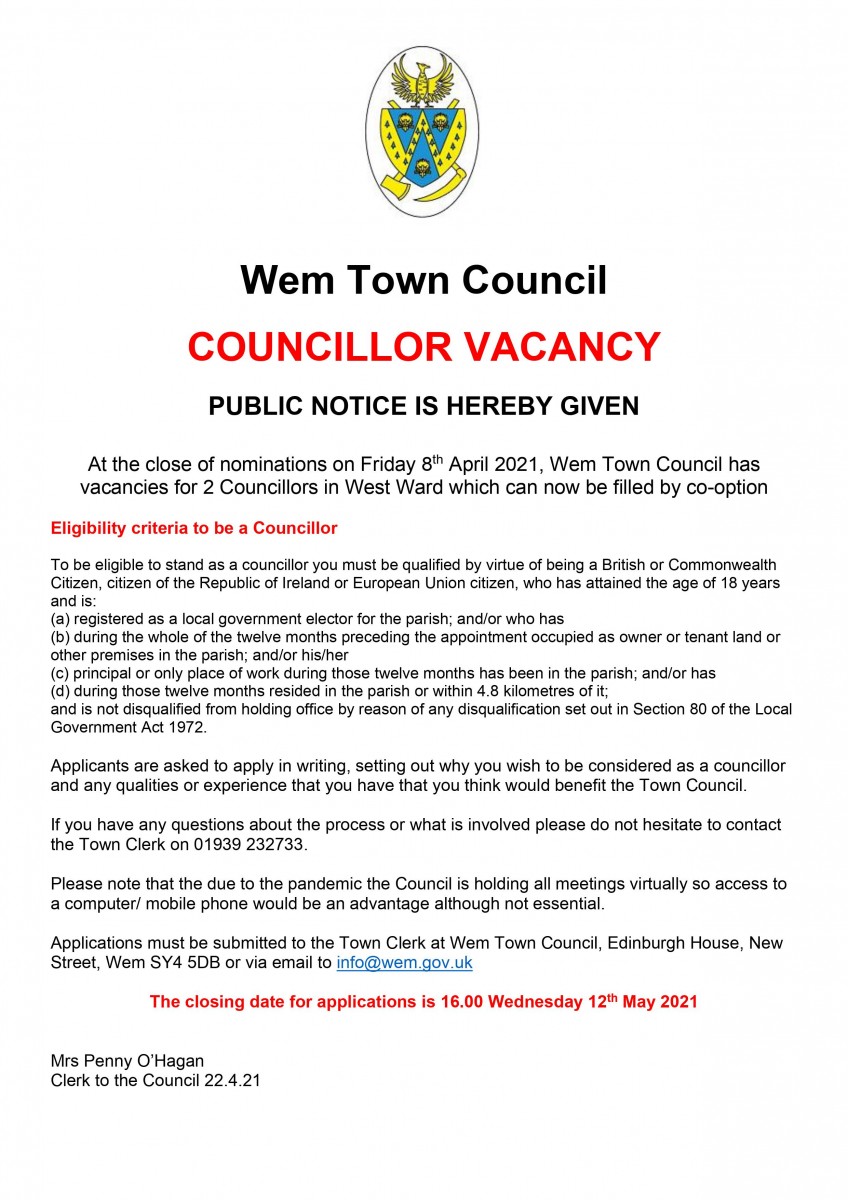 Councillors Vacancies  -
PUBLIC NOTICE IS HEREBY GIVEN
At the close of nominations on Friday 8th April 2021, Wem Town Council has vacancies for 2 Councillors in West Ward which can now be filled by co-option.
Eligibility criteria to be a Councillor
To be eligible to stand as a councillor you must be qualified by virtue of being a British or Commonwealth Citizen, citizen of the Republic of Ireland or European Union citizen, who has attained the age of 18 years and is:
(a) registered as a local government elector for the parish; and/or who has
(b) during the whole of the twelve months preceding the appointment occupied as owner or tenant land or other premises in the parish; and/or his/her
(c) principal or only place of work during those twelve months has been in the parish; and/or has
(d) during those twelve months resided in the parish or within 4.8 kilometres of it;
and is not disqualified from holding office by reason of any disqualification set out in Section 80 of the Local Government Act 1972.
Applicants are asked to apply in writing, setting out why you wish to be considered as a councillor and any qualities or experience that you have that you think would benefit the Town Council.
If you have any questions about the process or what is involved please do not hesitate to contact the Town Clerk on 01939 232733.
Please note that the due to the pandemic the Council is holding all meetings virtually so access to a computer/ mobile phone would be an advantage although not essential. 
Applications must be submitted to the Town Clerk at Wem Town Council, Edinburgh House, New Street, Wem SY4 5DB or via email to info@wem.gov.uk
The closing date for applications is 16.00 Wednesday 12th May 2021
Being a Local Councillor
Town Councillors are community leaders who represent the aspirations of residents who live in their parish and endeavour to achieve them. Town Councillors also have close links with local community groups, schools and churches within the parish.
A Councillor's normal term of office is 4 years, the next election will be May 2025.

Is the holder of a public office and not a volunteer.

The main job of a Councillor is to participate in the collective decision making processes of the Council.

He/she has no authority to make decisions about Council business on his/her own.

A Councillor's financial and certain other interests in Council business must be transparent.

He/she is subject to obligations set out in the Code of Conduct adopted by the council.

Wem Town Councillors do not receive any remuneration other than travel expenses although an allowance is made to the Mayor.